Malvani Chicken with jeera rice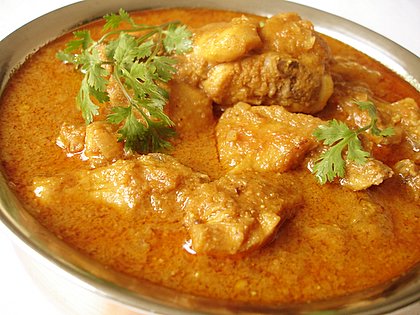 Serves: 4
Cooking time (approx.): 30 minutes
Style:
Maharashtrian Non-Vegetarian
Ingredients :
8 medium sized pieces (about 800 grams) of
chicken
1 coconut(s) grated
4 onions chopped
1 teaspoon(s) red chilli powder
½ teaspoon(s) turmeric powder
2 teaspoon(s)
hot spice mix (garam masala)
powder
8 green chillies chopped
2 tablespoon(s) each of ginger and garlic pastes
2 tablespoon(s) oil salt to taste
finely chopped coriander leaves for garnishing
Grind half of the green chillies to a paste and mix it well with the ginger and garlic pastes. Make cuts on the
chicken pieces
, rub this mixture on to them well and marinate for about an hour at least. Roast coconut shavings in a little hot oil till light brown. Cool and grind along with half the onions to a paste.
Heat oil in a heavy-bottomed pan and saute the onions on medium level for about 2 minute(s) or till they are light brown in color.
Add the remaining chopped green chillies, spice powders and fry for a few seconds. Add the marinated chicken pieces and fry on medium level for about 3 minutes or till they are lightly browned.
Add the paste, salt and mix well. Add water according to the desired level of consistency and bring to a boil. Cover and cook on low level for about 25 minute(s) or till the chicken pieces are tender and fully cooked.
Garnish with finely chopped coriander leaves and a
tasty Indian recipe
is done
TIP:
If it is difficult to obtain fresh coconut, it can be replaced by desscicated coconut shavings. For this recipe, there is no need to soak it in warm water. Roast it directly.
Check this site to learn more on
Malvani Cuisine
JEERA RICE
Serves:4 Cooking
time (approx.): 19 minutes
Style:
North Indian Vegetarian
2 cup(s) uncooked long grain rice (called Basmati rice in India)
2 teaspoon(s) cumin seeds
1 tablespoon(s) butter or
ghee (clarified butter)
4 cups water salt and a dash of lime juice to taste
Heat butter / ghee (clarified butter) on medium level in a large heavy-bottomed vessel for about 2 minute(s).
Add the cumin seeds and fry for 2 minute(s) till the seeds splutter.
Add the rice, lime juice, water and salt. Mix well. Bring to boil on high heat. Reduce heat and cook covered on low level for 15 minutes till all water evaporates.

9 - recipes
7 - chicken
2 - breast
1 - meat
1 - poultry
1 - delicious
1 - casseroles
1 - breasts