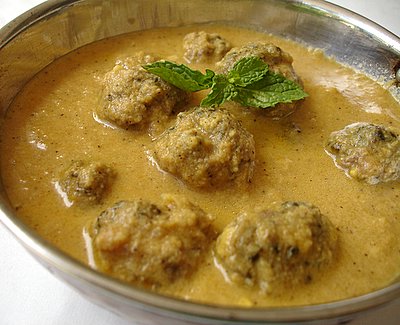 Goat Curry / Mutton recipe / Ghosht Curry
1 large onion
2 green chilis
1 cup yogurt
1 tsp. ginger paste
1 tsp. garlic paste
5 curry leaves
1.42 lbs. Mutton (goat meat)
3 bay leaves
4 whole cloves
1 1/2 tsp. corainder seeds
2 cardamom
1/2 tsp. turmeric (Haldi powder)
2 tsp. Gasagasaalu (Poppy seeds, khas khas seeds)
2 ripe whole chilis
1/3 cup vegetable oil
salt, to taste
Make into a paste the first six ingredients in the above list by adding a little amount of water. Keep aside.
Make into a powder cloves, coriander seeds, cardamom, turmeric, and gasagasaalu (poppy seeds) and keep aside.
In a large bowl, mix mutton pieces, salt, and the paste. Keep aside for 40 minutes and then in a pot, in sufficient amount of water, cook on medium heat until the meat becomes tender.
Now in a wide skillet, heat oil and when oil is hot add chopped red chili, bay leaves, and the above meat. (Do Not add any remaining liquid from the marinade. This will be needed later). Fry on high heat for 7 minutes and then add the powdered spices. Fry for two more minutes on low heat and then add the remaining liquid from the marinade dish. Now cook on low heat for a few minutes or until the sauce thickens.
Garnish lightly with fresh butter and serve hot!
This dish goes very well with paratha and plain white rice and gives off the sonderfully fresh aroma of curry leaves
Mutton Curry Paste
Thai Chili Fresh 14 Oz
1,000 Indian Recipes
42 Authentic INDIAN RECIPES eBOOK Spicy Cookbook
Native Harvests: American Indian Wild Foods and Recipes
Gordon Ramsay's Great Escape: 100 of My Favourite Indian Recipes
Other good mutton recipees



Malabar Mutton Curry - Marias Menu
A recipe from Sanjeev Kapoor's Khana Khazana. ... Add mutton & stir continuously for 10 min on high flame
Add in curry leaves and onions and saute until onions are golden brown. Add tomatoes and saute until they become soft. Finally add the cooked mutton pieces
Spicy Mutton Curry Recipe Recipezaar - I love spicy cooking once in a week. Its not only mouth watering and makes you feel like you ate a hearty meal.
OUR OTHER RECIPES ON BLOG LINKS
Links:
JOE MAMAS Mouth-Watering Vintage Italian Beef, Mutton And Veal Recipes
MDH Karahi Gosht Masala (Spice blend for Mutton), 3.5-Ounce Boxes (Pack of 10)
Mutton Tallow, 1 Oz.