Rajasthan is the land of kings in India. Rajasthan is the royal land where Rajas (king) and maharajas used to live. It has diversity in both vegetarian and non vegetarian dishes. It was believed that the rajas maharajas used to be great hunters and so ate the meat of their hunt while having a diverse meat eating as well as vegan cuisine.
The Great Rajathan Recipe collection - India Curry Recipes
We start our
Rajathan Special Recipe collection
in reverse with one of our already published "jalebi recipe" given below,
which
is Indian sweetdish had after dinner or lunch as dessert or then just as a snack with Tea.
Jalebi strands go round and round in Desi Ghee to be dipped into sweetness which you will enjoy.A north indian Traditional delicacy called Jaleba (a bigger jalebi).
Rajathan Ghevar jalebi
Rajasthan
is the best place to taste a good ghevar( ghevar jalebi). Would you believe it if I told you that jalebis were known as
kundalika
which as a sweet delicacy was served specially during marriage feasts. Jalebis go back to 4th and 2nd centuries BC. In ancient classical literature boondi laddoos were named bindumodak laddoos. Churma laddos erstwhile dahitra laddoos had almonds, pistachios, raisins, dry dates, dry coconut and peppercorns.
Holi, (also known as Basant Utsav) is the festival of colors is around the corner. Most Indian households make different kinds of sweets to celebrate this fun filled festival
Ingredients go Jalebi or Ghevar:
1 cup all purpose flour
1 tbp besan flour
1 tsp yeast
few saffron strands soaked in warm water
1 tsp sugar
1 tsp ghee
warm water to mix
Oil for deep frying.
For Jalebi Syrup
:
1 1/4 sugar
1/2 cup water
2 pinches of saffron
2 cardamom bruised
1/2 tsp lemon juice
Method:
Mix all the ingredients (not the oil ) into a semi thick paste and keep aside for 10-15 minutes.
Prepare the sugar syrup, by boiling all the syrup ingredients except lemon juice. Once it become very thick then add the lemon juice, now the syrup is ready for the fried jalebis.
Take a clean cloth and cut a small hole in it. Fill half of the batter into the cloth and squeeze the batter into to the oil in circular motion. Fry both sides, remove the fried jalebi from the oil and dip it in the syrup. Remove quickly as soon as possible.
Hot and crunchy tasty jalebi is ready to serve.( Also made as speciality during the Indian Holi Festival)
History of Holi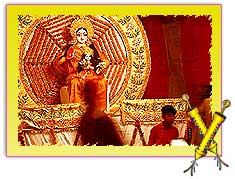 Holi is an ancient festival of India and was originally known as
'Holika'.
The festivals finds a detailed description in early religious works such as
Jaimini's Purvamimamsa-Sutras and Kathaka-Grhya-Sutras.
Historians also believe that Holi was celebrated by all Aryans but more so in the Eastern part of India.
Ref:
http://chefsanjeevkapoor.blogspot.com/2010_08_01_archive.html